Just Jerry
This user hasn't shared any profile information
Posts by Just Jerry
0
Capricon is pleased to announce the addition of Margaret Weis as our Gaming Guest of Honor for Capricon 35.
Margaret Weis is a science fiction and fantasy writer who has penned dozens of novels and short stories; along with Tracy Hickman, Margaret is one of the original creators of the Dragonlance world. In addition to her writing career, Margaret serves as the owner and chief officer of two publishing companies: Sovereign Press, Inc., a game publisher based in Lake Geneva, WI, which now produces the Dragonlance line of game products; and Margaret Weis Productions Ltd., which publishes RPG lines based on several licenses including Firefly, Serenity, and Battlestar Galactica, as well as Ed Greenwood's new solo venture into roleplaying games, Castlemourn.
Why not buy your registration today?
0
Congratulations to Brother Guy Consolmagno on receiving the prestigious Carl Sagan Medal. He's the first clergyman to do so. Well done, Brother Guy!
You can read more about this well deserved honor here.
0
Due to unavoidable circumstances, Steve Jackson will not be able to join us at Capricon 35. Mr. Jackson is as sad as we are, as he was looking forward to being a Guest of Honor alongside his friend and fellow gamer Matt Forbeck.
As the fates are wont to do, they taketh with one hand and giveth with the other. Capricon 35 is pleased to announce that we have added a guest to our roster of luminaries.
John Bivens, whose work has appeared in the Eisner and Harvey award winning Comic Book "Tatoo", the DC comic's ZUDA initiative, and the upcoming Image Comics SF/Fantasy epic "Dark Engine", will be joining us as our Artist Guest of Honor.
Friend of Phandemonium, John Scalzi, will be at the Seminary Co-op Bookstore in Chicago on Tuesday, 10/21/2014 at 6:00 pm. Here's the flier with more details.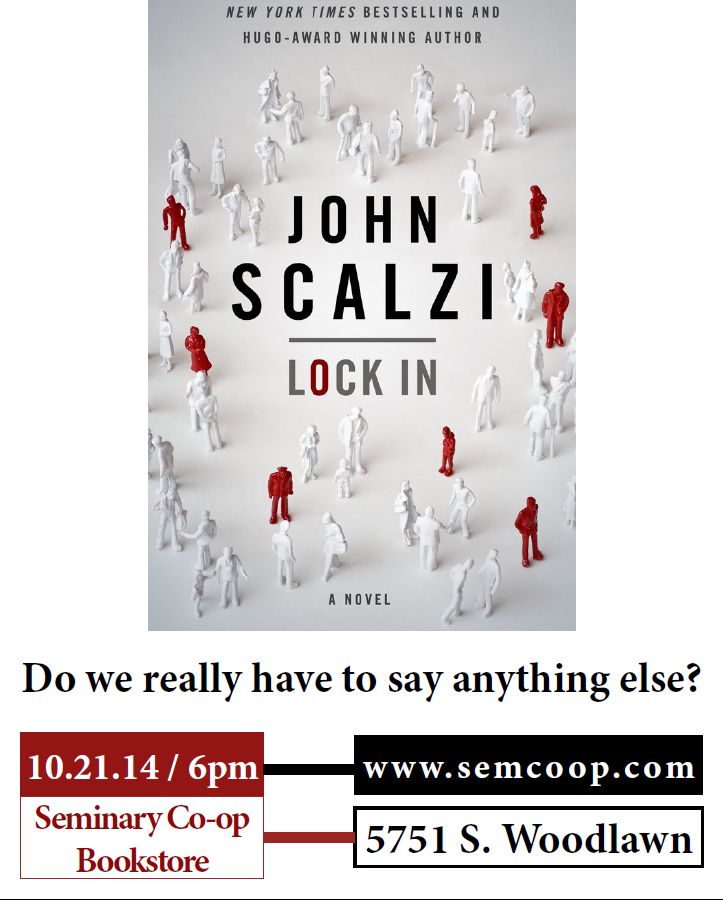 0
We've planned two meetings of the Phabulous Phandemonium Euchre Club before the end of 2014! Mark your calendars and shuffle your cards.
We're meeting on October 26, 2014 and December 14, 2014. Both meetings are Sundays and both are at 6:00 pm.
As usual, the action takes place at:
The Grafton Pub and Grill
4530 N Lincoln
Chicago, IL
Bid 2014 farewell with Euchre.
0
The October 2014 edition of Goat Droppings is here!
Do you wonder what your fannish future has in store? All is revealed in the pages of Goat Droppings! Look into our crystal ball and learn the secrets of:
Capricon 35 Progress Report
Euchre Club
Book Clubs
Capricon Book Drive
Joining the Phandemonium Board
And, of course, there's Out of CON-text.
Click here to download your copy.
0
Wondering how best to start 2015? We've got some ideas. Fencing. Fighting. Torture. Poison. True love. Hate. Revenge. Giants. Hunters. Bad men. Good men. Beautifulest ladies. Snakes. Spiders. Beasts of all natures and descriptions. Pain. Death. Brave men. Coward men. Strongest men. Chases. Escapes. Lies. Truths. Passions. Miracles.
In short, "The Princess Bride" by William Goldman.
We'll be meeting on January 11, 2015 at 7:00 pm at our normal location:
Cosi
1740 Sherman Ave
Evanston, IL
Evanston is kind of like the Cliffs of Insanity, right? Stop by and find out.
0
To celebrate Halloween, the Phandemonium Book Club in Elgin will be discussing "Frankenstein" by Mary Shelley. Although usually thought of as horror, it has all the elements of great science fiction.
We'll be discussing this masterpiece on October 25, 2014 at 1:00 pm. Note the new time. (You get to sleep in!) The meeting will be at…
Blue Box Cafe
176 E Chicago St
Elgin, IL 60120
It's walking distance form a Metra station and a major Pace Bus hub. There is free parking in a garage on the block north of the Cafe on Chicago Street and some street parking.
Join us as we discuss this classic story.
Just Jerry's RSS Feed