This year's charity is Barrel of Monkeys (http://www.barrelofmonkeys.org).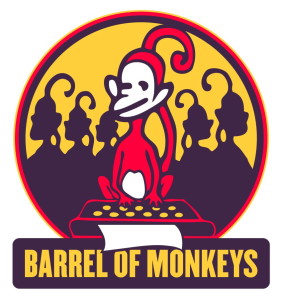 Mission
Barrel of Monkeys (BOM) is an ensemble of actor-educators that creates an alternative learning environment in which children share their personal voices and celebrate the power of their imaginations. BOM accomplishes this through creative writing workshops and in-school performances of children's stories. Barrel of Monkeys also engages the broader community in support of the visions of children through public performances of their work.
Vision
A radically kind Chicago that champions children's ideas.
What We Do
BOM's residency program brings 4-5 teaching artists into the classroom, creating an engaging and extremely personalized learning environment. The multi-week residency includes interactive drama, storytelling, and a variety of writing exercises. Each child writes a minimum of 6-8 individual stories in a residency. When the residency has finished, BOM's professional actors, improvisers and musicians transform the stories, poems and essays into a fast-paced sketch show for the stage. The actors then return to the school and perform these works for the young authors themselves and their entire school community.
Core Values
To build student confidence in self-expression and self-esteem by providing workshops that create a safe and supportive place to explore thoughts and ideas, while validating those ideas through high quality professional performance;
To raise student enthusiasm for language arts by providing an interactive residency that creates a joyful environment to express ideas followed by a hyper-energetic performance of the students' writing;
To build confidence in English writing skills for all students by providing creative writing alternatives that include storyboards, student dictation, one-on-one writing work and more;
To provide consistent and nurturing relationships with an adult role model over a sustained period of time by providing weekly one-on-one time between BOM facilitators and students;
To provide high quality, critically-acclaimed theater to the students we serve and the broader Chicago community.