Located next to the dealer room, the art show is a place for attendees to see – and purchase – a wide variety of work from many talented artists. You can find almost anything in the art show, from traditional paintings to photography, digital art, jewelry, fiber arts, mixed media, and more. Exhibitors here range from established professionals to up-and-coming amateurs, and we will even have space for artists to do demonstrations and take commissions. Everything culminates in the Artist Showdown and the Live Art Auction on Saturday night, so be sure to stop by before it's too late!
Hours
Viewing/Bidding:
Thu 5 pm – 8 pm
Fri 11 am – 9 pm
Sat 10 am – 6 pm
Buyer Pickup:
Sat evening: after the auction by appointment only
Sun 10 am – 2 pm
If you (or your agent) need alternate set-up or pick-up times, please let us know asap.
General Info
The main Auction Gallery area of the art show is run primarily as a written auction. Bid sheets will be attached / in close proximity to the piece, and attendees may bid on the work in writing on these sheets during art show hours.
All first bids on a piece must be at or above the minimum bid on the control sheets; subsequent bids must be greater than previous bids in whole dollar amounts. Should any piece receive three or more qualifying bids, that piece will go to the Live Art Auction on Saturday night, where the highest 'paper bid' may or may not be beaten by a 'live bid.' Should any piece receive fewer than three bids, the highest bid on that piece prior to close of the art show on Saturday will win.
Pickup of and payment for pieces won in the art show will be on Sunday – we may also open up for payment late on Saturday, by prior appointment/arrangement only. All bids are binding, and all sales are final.
Print Shop
In contrast to the Auction Gallery, art in the Print Shop is available for immediate purchase and removal, and will be priced at a flat rate (as in, there is no 'bidding').
Photography
Photography of work on display in the Auction Gallery &/or Print Shop is strictly prohibited, unless both the artist and a member of the art show staff are present and have given their express approval.
Security
Unlike previous years, there will be no bag check at the door. However, we are taking additional measures to ensure the security of artwork, including the presence of security staff. Reasonable suspicion of theft may result in bags being checked.
Artist Info
The Art Show is no longer accepting space reservations. We will have a limited amount of space available to walk-in artists on a first-come, first-serve basis during art show set-up hours (see below), but we can make no guarantees.
For artists who have reserved space: you should now be able to enter your art inventory directly into our online database. To do so, log into your existing account, then click on 'Your Artwork Inventory' under 'Artist Information' on the Main Menu.
List of exhibiting artists:
Alessandra Kelley
Betsy Mott
Bill Cavalier
Brian Babendererde
Bridget Wilde
Chaz Kemp
Cheryl Storm
Christine Mitzuk
Christopher Ness
Claire Whitmore
Clifford VanMeter
Daniel Cortopassi
Dexter Fabi
Dragon Lady Art
Dragon Scale Dreams Ltd
Elaine Oldham
Geek Calligraphy
Jan Gephardt
Janice Mueller
Jason Betts
Jeliza
Jenna Fae
Jessica Douglas
Kathie Huddleston
Kevin Owens
Laurie Rich
Lubov
Lucas Durham
Lucy Synk
Maia B W Sanders
Matthew Duhan
Morgan R. Leon
Patricia McCracken
Peri Charlifu
Rhea Ewing
Rob Hogan
SamHain Press
Sandra SanTara
Sara Felix
Sarah Clemens
Taia Hartman
Tamera Mickelson
The Wicked Queen's Mirror
Theresa Mather
Tiana Solomon
Todd Johnson
WoolWeed
Hours for Artists:
Artists & Staff Only:
Thu 2 pm – 5 pm (setup)
Fri 9 am – 11 am (setup)
Sunday 2 pm – 4 pm (pickup)
If you (or your agent) need alternate set-up or pick-up times, please let us know asap.
Awards & Artists' Challenge
All convention attendees are welcome to vote until the art show closes on Saturday; winners will be announced and awards given out at the Live Art Auction that evening.
Work in the Auction Gallery (NFS pieces included) may be eligible for the following awards:
Best in Show
Best Pro Work
Best Non-Pro Work (previously "Best Fan Work")
Artist's Challenge Award: goes to special works which incorporate a goat (the convention's mascot) and three of the following: a humanoid child, blown soap bubbles, a flag, an imaginary friend, a set of (balance) scales.
Best Emerging Artist Entry: goes to a student who submitted work for inclusion in the Emerging Artist Program, a special section of the art show for art students; this award comes with a $50 prize, courtesy of ASFA, the Association of Science Fiction & Fantasy Artists, 1 copy of the Reckless Deck, Volume 1, and a $50 gift certificate to Dick Blick, in addition to the trophy.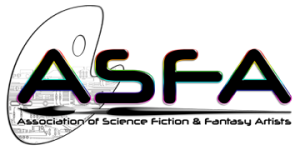 Volunteering
We welcome volunteer workers in the art show itself, or artists who wish to participate in programming events. If you volunteer to help the art show or to participate in related programming, you may be eligible for badge reimbursement. If you have any proposals, input, or interest in participating or volunteering, please contact artshow@capricon.org.
If you have any other questions, comments, or concerns about the art show & its policies, please feel free to email artshow@capricon.org