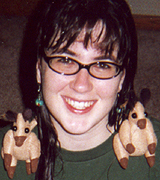 ...........
Shaenon writes and draws "Narbonic," an online comic strip about mad scientists and related things, which has been running daily on Narbonic.com since 2000. "Narbonic" also appears on the subscription based webcomics site Moderntales.comand has spawned a print collection, an Official Stuffed Gerbil, and its own annual mini-convention, Narbonicon, in Minnesota.
Shaenon writes or has written several other webcomics, including "Li'l Mell" (drawn by various artists) on Girlamatic.com, "More Fun" (drawn by Robert Stevenson) on Graphicsmash.com, and "Trunktown" (drawn by Tom Hart) on Serializer.net. Her comics have appeared in print in Nickelodeon magazine and the girl-cartoonist anthology Broad Appeal.
Since none of this actually pays the bills, Shaenon works as a freelance editor for manga publisher Viz LLC. The comic books she edits for Viz include One Piece, Yu Yu Hakusho, Naruto, Ultimate Muscle, and Tenchi Muyo (which, at least, contains some incidental mad science). She also writes monthly reviews and features for Animerica magazine. This requires her to read a lot of Japanese comics.
Shaenon lives in a tiny apartment in San Francisco. She is married to Andrew Farago, gallery manager of the Cartoon Art Museum and frequent "Narbonic" guest artist. They own several houseplants.