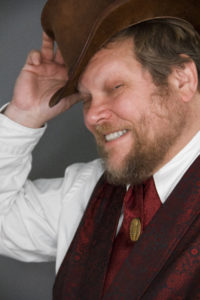 (b. May 1, 1956) American artist and cartoonist Philip P. Foglio (pronounced Foh-Leeo grew up in New York. He attended the Chicago Academy of Fine Arts, where he earned a BFA in cartooning (1978). Foglio was an enthusiastic science fiction fan artist. Nominated for Best Fan Artist Hugo Awards in 1976, 1977 and 1978, winning the Award in 1977 and 1978. He was also nominated the Best Dramatic Presentation Hugo along with Robert Asprin for the slide show The Capture. Foglio's first professionally published art was for "Taking the Fifth" in Isaac Asimov's Science Fiction Magazine, (1978).
Foglio came to most gamers' attention in 1980, when he began the comic strip "What's New with Phil & Dixie" for Dragon. The series' ran until issue #84 (April, 1984). Each month covered a different angle of role-playing, poking fun at the world of tabletop RPG characters and games.
In the 1980s, Foglio created a comedy/science fiction/detective comics series Buck Godot, collected in two volumes: Buck Godot: Zap Gun for Hire (Donning, 1986) and Buck Godot: PSmIth (Walsworth, 1987).
In 1989 he published the adult comic XXXenophile, which ran for eleven issues, regarded by many as the "most literary adult comic ever", and the only adult comic to ever be nominated for an Eisner Award. He also created the first adult-themed CCG, XXXenophile (Slag-Blah, 1996), based on the comic book series of the same name.
In 1989 he co–wrote the comedic science fiction novel Illegal Aliens with Nick Pollotta.
In 1990 Foglio moved to Seattle, Washington, and in 1991 was hired by Garfield Games (Wizards of the Coast) to illustrate and design characters for the board game Robo-Rally.
He married Kaja Foglio in1993, and they founded Studio Foglio in1995. Foglio produced card art for Wizards of the Coast's Magic: The Gathering collector card game.
During the 1990s -2000s, Foglio provided numerous illustrations for computer games, board games and card games for publishers such as Cheap-Ass Games and Steve Jackson Games. His most recent game project (as of this writing) is Girl Genius Munchkin.
In 2001 Phil & Kaja released the first issue of Girl Genius as a quarterly comic book series. In 2005, they were the first publisher to take an existing commercial comics property and put it online for free. Within a year of becoming a free webcomic, sales had tripled, and their readership had climbed over 100,000. As Phil has put it, "Giving our stuff away for free was the best business decision we ever made."
Foglio was a professional artist Hugo nominee in 2008, and in 2009.
He, Kaja, and colorist Cheyenne Wright, won the first Graphic Story Hugo Award for Girl Genius, Volume 8: Agatha Heterodyne and the Chapel of Bones. They won the category again in 2010 for Girl Genius, Volume 9: Agatha Heterodyne and the Heirs of the Storm, and 2011 for Girl Genius, Volume 10: Agatha Heterodyne and the Guardian Muse. At this point, they announced that they would take a one-year hiatus from the category.
Night Shade Books is publishing an ongoing prose novel version of the Girl Genius saga, of which, at this time three are in print.
The Foglios continue to live in Seattle and have two children. They enjoy travel, video games and old books.