Professor Jody Lynn Nye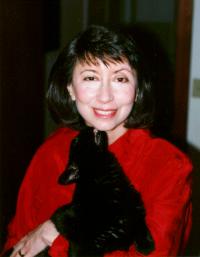 Jody Lynn Nye was born in Chicago, and except for brief forays to summer camp and college has always lived in the area. She was graduated from Maine Township High School East and Loyola University of Chicago, where she majored in Communications and English, and was an active member of the theater groups, the student radio stations, and the speech team (original comedy and oratorical declamation). She has three younger brothers: a pediatric neurologist, an electronics trouble-shooter, and a CPA. Her mother is a nurse and an artist, and her father owns his own accounting firm.

Before breaking away to write full time, Jody worked as a file clerk, book-keeper at a small publishing house, freelance journalist and photographer, accounting assistant, and costume maker.

From 1981 to 1985, she was on the technical operations staff of a local Chicago television station, WFBN (WGBO), serving the last year as Technical Operations Manager. During her time at WFBN, she was part of the engineering team that built the station, acted as Technical Director during live sports broadcasts, and worked to produce in-house spots and public service announcements.

Since 1985 she has published more than 30 books and 80 short stories. Among the novels Jody has written are her epic fantasy series, The Dreamland (Baen Books), beginning with Waking In Dreamland, four contemporary humorous fantasies, Mythology 101, Mythology Abroad, Higher Mythology, The Magic Touch, and three science fiction novels, Taylor?s Ark, Medicine Show and The Lady and The Tiger. Jody also wrote The Dragonlover?s Guide to Pern, a non-fiction-style guide to the world of internationally best-selling author Anne McCaffrey?s popular world. She has also collaborated with Anne McCaffrey on four science fiction novels, The Death of Sleep, Crisis On Doona, Treaty At Doona and The Ship Who Won. She also wrote a solo sequel to The Ship Who Won entitled The Ship Errant. Jody co-authored the Visual Guide to Xanth with best-selling fantasy author Piers Anthony, and edited an anthology of humorous stories about mothers in science fiction, fantasy, myth and legend, entitled Don?t Forget Your Spacesuit, Dear! Her first three Mythology books have been collected into an omnibus, Applied Mythology, by Meisha Merlin Publishing. A fourth, Advanced Mythology, was published in 2001. Jody has also begun working with bestselling fantasy humorist Robert Asprin. They?ve penned four books together: License Invoked, Myth Alliances, Myth-Taken Identity and Class Dis-Mythed, not to mention a chapbook of Myth Adventures short stories, Myth-Told Tales.

Her next book will be a humorous military SF adventure, Strong Arm Tactics, first in the Wolfe Pack series, to be published by Meisha Merlin Publishing in October 2005 with a cover by Don Maitz.

Over the last twenty years, Jody has taught in numerous writing workshops and participated on hundreds of panels covering the subjects of writing and being published at science-fiction conventions. She has also spoken in schools and libraries around the north and northwest suburbs. Jody lives in the suburbs of Chicago with her husband Bill Fawcett, a writer, game designer and book packager, and two black cats, Jeremy and Miles.