Professor Bill Fawcett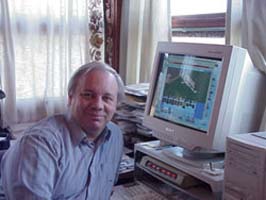 Before Bill Fawcett began writing and packaging, he had been a professor, teacher, corporate trainer, corporate executive, college dean, and boardgame company owner. He is one of the founders of Mayfair Games, a board and role play gaming company. As a book packager, a person who prepares series of books from concept to production for major publishers, his company, Bill Fawcett & Associates, has packaged over 250 titles for virtually every major publisher.
Bill?s articles in The Dragon began in single digit issues and include some of the earliest appearances of classes and monster types. With Mayfair, he created, wrote, and edited many of the over 50 ?Role Aides? RPG modules and supplements released by Mayfair Games in the 1970s and 1980s. During this period he also designed almost a dozen board games, including several Charles Roberts award winners such as Empire Builder and Sanctuary. Fawcett also acted as the rights agent for a number of established agencies, giving him the benefit of seeing our industry from the inside.
Bill began his own novel writing with a juvenile series, Swordquest for Ace SF. Anticipating cats, he wrote and edited the four novels, beginning with the Lord of Cragsclaw featuring the Mrem, which appear in Shattered Light as a hero class (all rights owned by Bill). The Fleet series he created with David Drake has become a classic of military science fiction. He has collaborated on several novels, mysteries such as the Authorized Mycroft Holmes novels, the Madame Vernet Investigates series, Making Contact, a UFO contact handbook. As an anthologist Bill has edited or co-edited over 50 anthologies. Bill Fawcett & Associates has packaged well over 200 novels and anthologies for every major publisher Bill works with the UDT/SEAL Museum in Fort Pierce, Florida and is the editor of Hunters and Shooters and The Teams, two oral histories of the SEALs in Viet nam. Another historical work he co-authored and edited with William Forstchen is It Seemed Like a Good Idea, a collection of the fifty worst decisions in history and why they were made.
In 1994, Bill joined with a team of programmers to form Catware Games as the producer and designer. Catware has released Swords of Xeen ( New World Computing) as part of the Trilogy Xeen game set, Star General, a strategic game based upon the six Fleet anthologies (SSI) that was one of the 20 best selling games the year of its release, Las Vegas Games (New World). He is currently working with Past Tree as consultant and designer on their On-line RPGs Trinity of Darkness and Star Captain.